Designing a menu for a wedding reception can seem daunting, especially when there are many different dietary needs to accommodate. Our secret is to have a repertoire of versatile foundational dishes, that can be paired with other dishes easily. It creates so many possibilities. Here are some examples.
A Good Foundation
One of our favorite foundational dishes is our Puerto Rican Arroz con Gandules (Yellow Rice with Pigeon Peas).
Simmered in a flavorful sofrito broth, it is delicious on its own. It's also vegan and gluten-free, and therefore very versatile
Next, we start pairing it with other foods to build out different menus, from traditional to regional to global!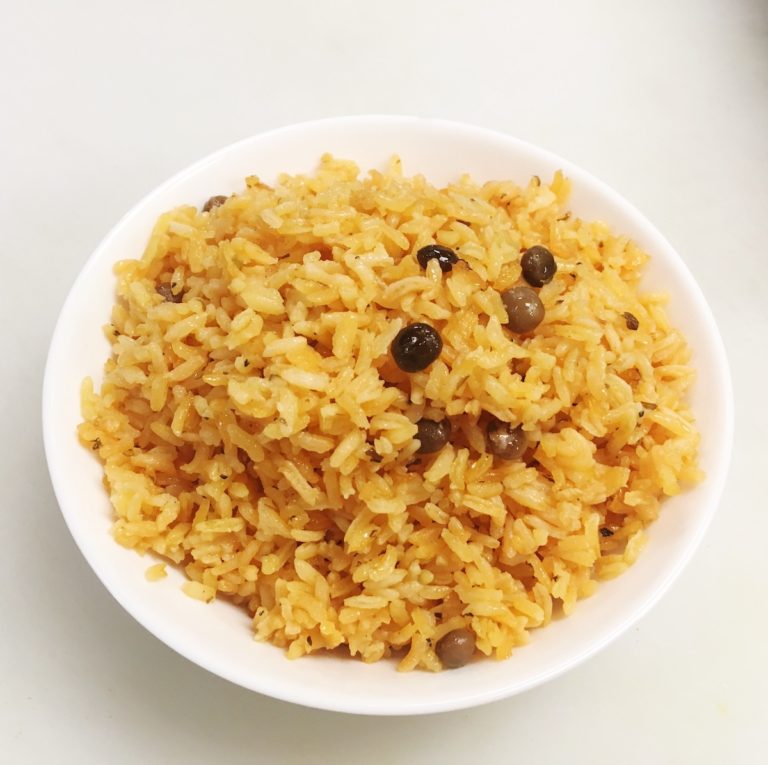 For a traditional Puerto Rican dinner, we serve Arroz con Gandules with Pernil (garlic-marinated slow-roasted pork) and Maduros (roasted sweet plantains).
For a vegan (and gluten-free) dinner, we serve it with Habichuelas Guisadas, a hearty and savory pinto bean stew with olives and potatoes, and Maduros (sweet plantains). 
Add a traditional Puerto Rican green salad to either dinner for color and texture, and you have a beautiful meal!
Delicious global pairings
This savory rice dish pairs amazingly well with a wide range of foods from other parts of the world.
Staying within the Caribbean, it can be served with Puerto Rican Pollo Asado (savory roast chicken) or Cuban Mojo Chicken (citrus-marinated roast chicken) and Mexican Pico de Gallo (tomato-onion salsa).
Greek Souvlaki (marinated char-grilled chicken or pork skewers) and Nepali cucumber aachar (salad) makes a stunning international meal!
For a vegan and gluten-free dinner, try Congolese Madesu (smoky stewed red beans) and tangy Collard Greens with a touch of brown sugar.
There are so many more combinations… and we love them all! All served on a bed of savory Arroz con Gandules (yellow rice with pigeon peas) 💕 
Are you hungry yet?